Bed and Breakfast Algarve
Faro
Faro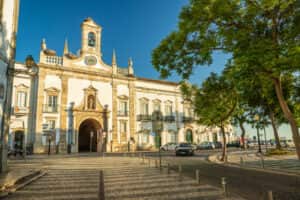 Faro is the capital and biggest city of the Algarve, with a population of about 118.000 people. For most people it is the gateway to the Algarve, since Faro Airport is the only airport of the Algarve. You can find a lot of Portuguese culture and history in the town. For example, there is a beautiful cathedral in Faro, as well as several churches. Moreover, Faro is located close to the Ria Formosa natural park.
Faro has a beautiful, historical old town, where also many restaurants and cafes are situated. A great starting point to discover the old town is the garden Jardim Manuel Bivar (near the marina).Go through Arco da Vila. After about 100 metres you arrive at Largo da Sé. This is the main square. On the square, you can find the statue of Dom Francisco Gomes do Avelar, who was a bishop of Faro in the 18th and early 19th century.
Near Largo da Sé you can see the Cathedral of Faro, also known as Sé Catedral de Faro and Igreja da Sé. It was built in the 13th century and is one of the most important historic buildings in Faro. You can climb up the bell tower by taking 68 steps. From the bell tower you have a breathtaking view over the surrounding area and the Ria Formosa.
Praia de Faro. This is the main beach of Faro. It is a wonderful beach, stretching for about 5 kilometres. Praia de Faro is located near the airport and the natural park of Ria Formosa. There is a bridge to this beach, so it is possible to reach it by car or by bus.
Ilha Deserta. The name of this uninhabited island translates to Deserted Island. This is because there are no people who live on the island permanently. The island has one of the most amazing beaches in the Algarve. Ilha Deserta can only be reached by boat.